It is really designed by bikers for bikers? I guess that will be left to everyone and their opinion once the GPS is tested on the road. Zumo 390LM has a wide 4.3″ touchscreen that is sunlight readable and glove touch friendly display. The power of Bluetooth allows to simply connect your mobile phone and headset or helmet to Zumo 390LM. You're free to talk on your phone without having to remove the gloves or helmet. With that in mind the Zumo allows you to use voice commands and speaks the names of streets.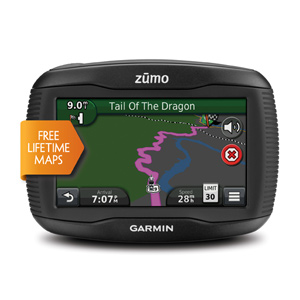 The possibilities to endless routes are numerous, but with a feature Curvy Roads you can easily navigate your favorite twisty road on the Zumo 390LM. With Lifetime map updates you are assured that none of your curvy roads disappear with the latest map updates, and the best part is that the map updates are free for lifetime.
A neat feature that has been added to the GPS is lane assistant. Lane assistant clearly shows you on which lane you should be located or which lane to take the exit. The Zumo 390LM is packed with another cool feature called TracBack. TracBack allows  you to navigate right back to where you started along the same route. It also lists all the exits, gas stations, or restaurants for upcoming exits.
Zumo 390LM has built in trip computer with compass display. It is standard with a digital fuel gauge to track of how many miles you rode before fuel stop. Once you feel the need for some speed, the speed limit indicator will activate itself warning you of the speed limit.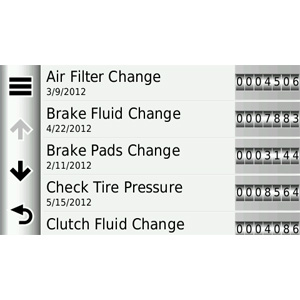 Thinking of going on a ride with friends from different places? Plan and share your trip with BaseCamp which allows you to create roads, search for roads, save roads, create points of interest, includes local attractions, restaurants, or fuel stops along the trip. You and your friends both can view the map and meet halfway at the dedicated rest stop.
All the beauty features packed into Garmin Zumo 390LM will cost you $699.99. The price is way up of average price for a GPS. Keeping in mind that with a regular car GPS you are capable of doing most of the features that the Zumo 390LM has.
Before even thinking about considering to buy the GPS, I strongly recommend to read reviews from people that tested the device. Overall I have a feeling that Garmin took a huge step back with this Zumo 390LM.
Overall on a scale from 1 (worst) to 5 (best).
Size  – 5 (smaller size larger screen)
Bluetooth – 3 (lacks full Bluetooth connectivity)
Easy To Use – 5
Cost – 3
Built – 4
BikerLeather is giving Garmin Zumo 4 stars out of 5.